YC Countdown To Christmas 4 Votive Gift Set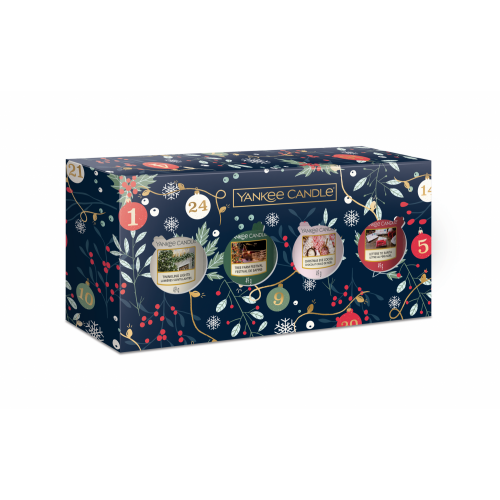 Treat yourself or a friend to the gift of Yankee Candle this Christmas with this countdown to Christmas four sampler votive gift set! They have been perfectly chosen to help create the ultimate yuletide atmosphere for your home!
The set is a part of the Countdown to Christmas collection and is packaged in a magnificent deep navy coloured gift box. It is decorated with beautiful illustrations of festive greenery and colourful baubles. Inside the box are four wonderful votives that each have a burn time of up to 15 hours and are fragranced with the most wintery of scents! These include:
Twinkling Lights - A festive blend of almond, jasmine and amber, it's time to deck the halls and get in the festive spirit.
Tree Farm Festival - Relive the childhood excitement of picking out your Christmas tree with this beautiful fragrance, the perfect blend of pine, cedarwood and gardenia.
Christmas Eve Cocoa- This aroma will evoke memories of an over-the-top cocoa bar, full of candy canes, marshmallows and other treats that can be added to your hot cocoa.
Letters to Santa – This fragrance will evoke memories of sitting down writing your list for Father Christmas, with notes of papery woods and amber.
Beautifully presented with a trio of scents to help celebrate the Christmas season, this stunning gift set is sure to bring a magical sense of winter to your home and it is the perfect present for anyone in your life who has a love of Yankee Candle's Christmas fragrances!
Countdown to Christmas Collection
This wonderful collection brings the beauty and warmth of the yuletide season as you share precious memories with family and friends. Each candle will help to enhance your enjoyment of the festivities on your countdown to Christmas. These timeless fragrances capture the very best aromas and spread them slowly through your home, bringing an instant smile to your face.