YC Countdown To Christmas 10 Tealight & 1 Holder Gift Set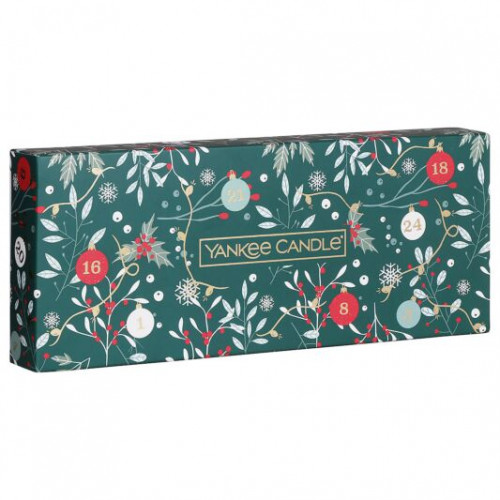 Treat yourself or a friend to a wonderful Yankee Candle gift this Christmas with this gorgeous set of ten tealights plus a holder, perfect for creating the ultimate wintertime haven! The set is quite stunning and would make a fabulous gift for any Yankee superfan.
The set is a part of the Countdown to Christmas collection and is packaged in a beautiful, lush green gift box which features Yankee Candle branding and a festive pattern adorned with bunches of holly and other festive plants. Inside the box is a clear glass tealight holder along with 10 tealights that have a burn time of up to 4-6 hours per tealight! These include:
Twinkling Lights - A festive blend of almond, jasmine and amber, it's time to deck the halls and get in the festive spirit.
Tree Farm Festive – Relive the childhood excitement of picking out your Christmas tree with this beautiful fragrance, the perfect blend of pine, cedarwood and gardenia.
Letters to Santa – This fragrance will evoke memories of sitting down writing your list for Father Christmas, with notes of papery woods and amber.
Christmas Eve Cocoa – This aroma will evoke memories of an over-the-top cocoa bar, full of candy canes, marshmallows and other treats that can be added to your hot cocoa.
Snow in Love - Take a walk in the fresh snow and fall in love with this delightful blend of creamy, comforting woods and wintry powder freshness.
Candlelit Cabin - A warming winter retreat of rustic pine, warm spices and earthy notes.
Christmas Magic - Bring a meditative atmosphere to your home with beautiful scents of mandarin, bergamot and eucalyptus.
Snowflake Cookie – This delicious fragrance is certain to put you in the mood for cooking with its sweet scent.
Christmas Cookie - A delicious sugary aroma of rich buttery holiday cookies.
Christmas Eve - Evoke memories of a traditional Christmas with a combination of a warm hearth, sugary plums and seasonal fruits.
Beautifully presented, this stunning gift set is sure to bring the feeling of winter to your home. It makes the perfect present for anyone who is a fan of Yankee Candle, whether it be for a birthday, Christmas, or housewarming gift!
Countdown to Christmas Collection
This wonderful collection brings the beauty and warmth of the yuletide season as you share precious memories with family and friends. Each candle will help to enhance your enjoyment of the festivities on your countdown to Christmas. These timeless fragrances capture the very best aromas and spread them slowly through your home, bringing an instant smile to your face.