Yankee Candle Sakura Blossom Festival Tumbler and Filled Votive 3-pack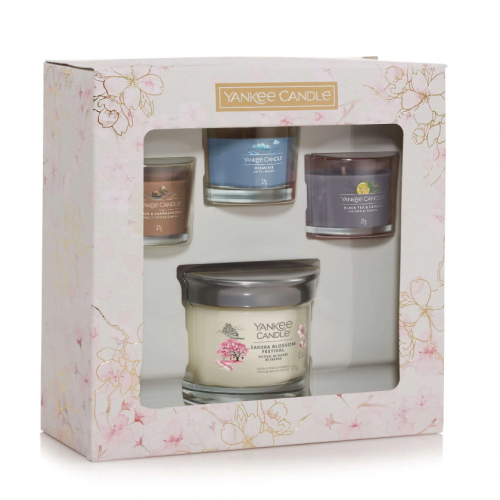 Give the ultimate gift from Yankee Candle with this beautiful Sakura Blossom Festival Small Tumbler & 3 Filled Votive gift set, perfect for creating a cozy atmosphere!

The following scents have been added to this beautiful Set:
1 x Filled Votive Ocean Air
1 x Filled Votive Black Tea & Lemon
1 x Filled Votive Amber & Sandalwood
1 x Small Signature Tumbler Candle Sakura Blossom Festival

Fragrance Description Sakura Blossom Festival:

Sitting under the blooming cherry trees, enjoy the sweet bouquet of rose and freesia during the sakura blossom festival.

Top note: Red Berries, Apple, Pink Grapefruit.
Middle note: Rose, Freesia, Cherry Blossom.
Base note: Sandalwood, Vanilla, Almond Milk.

Top note is the initial impression of the fragrance, middle note is the main body of the scent and the base note is its final impression.