Yankee Candle Sakura Blossom Festival Filled Votive 6-pack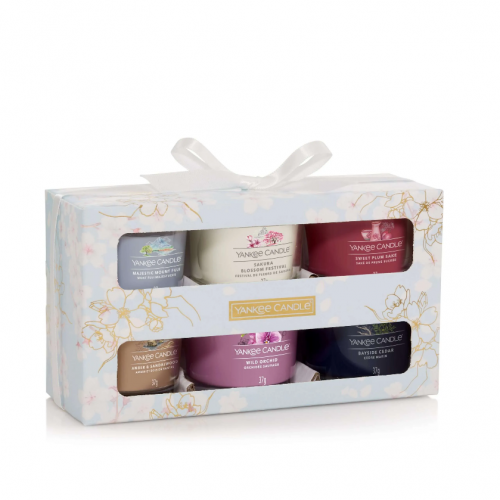 Give the ultimate gift from Yankee Candle with this beautiful Sakura Blossom Festival 3 Filled Votive gift set, perfect for creating a cozy atmosphere!

The following scents have been added to this beautiful Set:
1 x Filled Votive Sakura Blossom Festival
1 x Filled Votive Majestic Mount Fuji
1 x Filled Votive Sweet Plum Sake
1 x Filled Votive Amber & Sandelwood
1 x Filled Votive Wild Orchid
1 x Filled Votive Bayside Cedar

Fragrance Description Sakura Blossom Festival:

Sitting under the blooming cherry trees, enjoy the sweet bouquet of rose and freesia during the sakura blossom festival.

Top note: Red Berries, Apple, Pink Grapefruit.
Middle note: Rose, Freesia, Cherry Blossom.
Base note: Sandalwood, Vanilla, Almond Milk.

Top note is the initial impression of the fragrance, middle note is the main body of the scent and the base note is its final impression.

Specifications
Burning hours
6x15